62% of pet owners surveyed in Wales care more about their pet's wellbeing than their own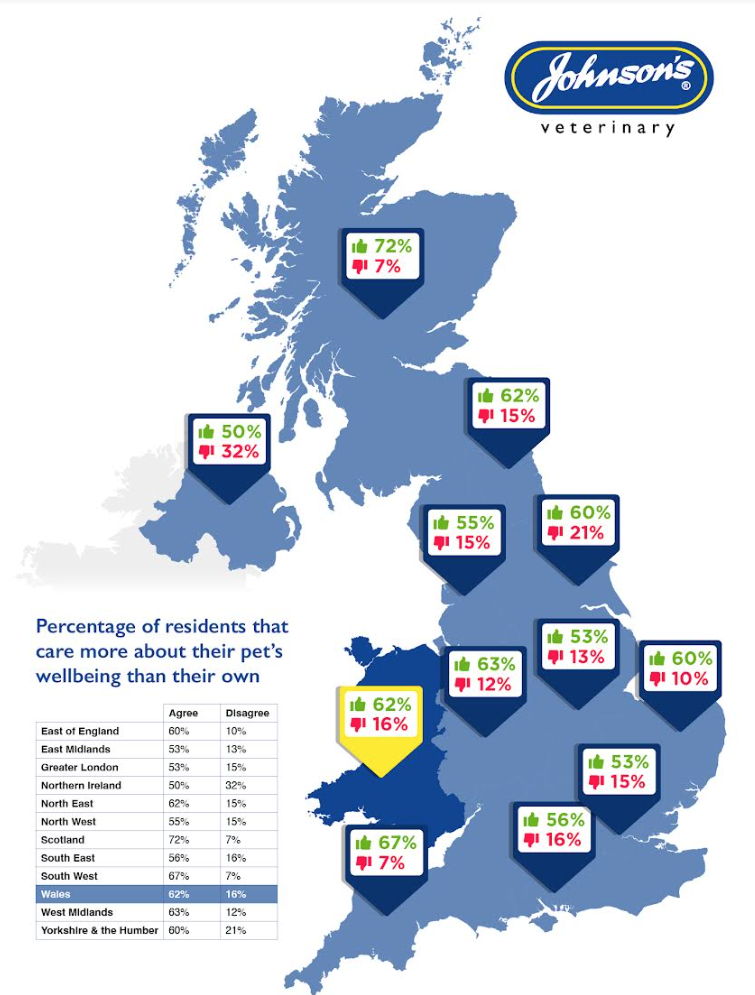 62% of pet owners surveyed in Wales care more about their pet's wellbeing than their own
16% of pet owners surveyed in Wales would put their own personal wellbeing ahead of their pet's
Nationally, UK pet owners demonstrate the strong connection they have with their pets, as 59% admit they would prioritise their pet's needs over their own
According to a recent survey by leading animal healthcare brand Johnson's Veterinary Products, 62% of pet owners in Wales care more about their pet's wellbeing than their own.
With 22% stating they neither agree nor disagree, that leaves 16% of respondents prioritising their own personal well-being – a statistic that once again demonstrates the paternal-like connection that many owners have with their pets.
The survey
The survey, which sought to identify the factors that influence buying decisions when owners seek healthcare products for their pets, offers an interesting insight into the position and priorities of many owners and why their appetite to spend remains so high.
It also sheds light on the current marketplace and why the emergence of pet care products that combine health benefits with pampered treatment has grown in popularity.
Of all the UK's regions, Scotland was the most supportive of this sentiment with an overwhelming 72% of respondents admitting they would put their pet's care first. Northern Ireland, the region with the lowest amount of support for the statement, still saw 50% of respondents in agreement compared with 32% against.
Paul Gwynn, Managing Director or Johnsons Veterinary Products, commented:
"Although the findings may come as a surprise to some people, I think it's a true reflection of how many owners feel, with their pets more akin to children in today's society.
"Most pet owners, past and present, will be able to relate to this sentiment as pets quickly become a valued part of the family, demonstrating unwavering love and loyalty throughout their lives that earn them a special amount of care and attention from those responsible for their wellbeing.
"We have long recognised this shift in perception, and as such, have remained steadfast in our commitment to delivering products that combine care with treatment, ensuring pets are pampered and looked after in a way that reflects how their owners feel towards them.
"Interestingly, the national statistics showed that respondents within the 25-34 year old age bracket were most likely to put their pet's interests before their own, whilst 61% of female owners agreed with the sentiment compared with 57% of men.
"That being said, all of the findings are overwhelmingly positive and provide a real insight into the strong sense of connection that owners feel for their pets."