Three Weekly Collections Start 03/07/2023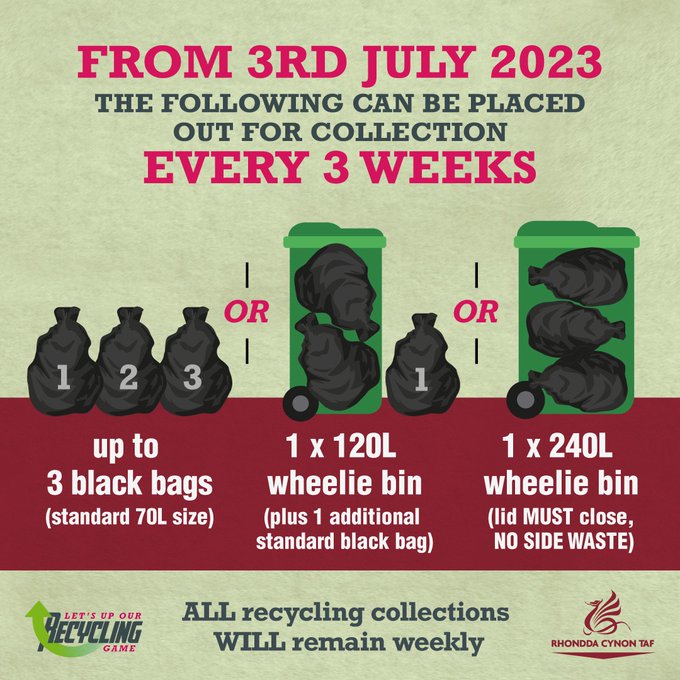 Three weekly bin collection changes will come into force across Rhondda Cynon Taf from Monday 3rd July.
The changes that are being introduced to increase recycling rates, could not have come at a more important time as the County Borough has recently announced a significant drop in recycling rates.
Over two-thirds of Councils in Wales will be operating a similar service by the end of the year.
ALL recycling collections including, food waste, green waste and nappies will still be unlimited and collected weekly, but black bag and wheelie bin collections will move to once every three weeks from the week commencing Monday 3rd July.
This will mean:
Houses with a 240l (large) wheelie bin can put out the bin (lid closed) for collection. No additional black bags will be collected.
Houses with a 120l (small) wheelie bin can put out the bin for collection, plus one standard black bag (70l max) to the side/on top.
Households that use black bags can put out a maximum of THREE standard black bags (70l max) every three weeks.
Every household across Rhondda Cynon Taf should now have received a personal information pack detailing all they need to know about the changes and how it will affect their individual household. Many residents will have been notified that their collection days will change from the week commencing Monday 3rd July for both recycling and black bag waste. Residents who would have been disadvantaged by facing an initial 4-week collection will receive an interim collection in the week commencing Monday 3rd July on their new collection day, (where applicable). Full details can be found at www.rctcbc.gov.uk/3WeeklyCollections.
Roger Waters, Director of Frontline Services at Rhondda Cynon Taf Council said:
"We've come a very long way over the last decade with recycling thanks to our recycling residents and dedicated staff.
"I want to stress that we are still providing a FULL WEEKLY recycling service. If you are already recycling, which 3 out of 4 people in RCT are, these changes are unlikely to make a big difference to your household, but will mean that we avoid future fines, ensure that we meet the targets, safeguard vital services, and, together, reach the goal to become net-zero by 2030
"We have taken everything that we can into account and will continue to make slight changes over the coming weeks where necessary, to ensure that the new service will be fair to all recycling households. I really hope that residents support the change and come together to UP our Recycling GAME – the changes that we all make to our habits now will ensure that we avoid significant fines and safeguard a brighter world for future generations – it's a GAME we can't afford to lose!"
Residents are being reminded to ensure that food waste is recycled in the right green food waste bag/caddy and that you register for nappy collections and green waste collections, (if you haven't done so previously), and that nappies are put out in purple bags and green waste into the green sacks. All clean, dry recycling should be placed into CLEAR recycling bags.
The Council's Community Recycling Centres (CRCs) are open 7 days a week from 8am until 7.30pm (summer opening hours). During busy times, there may be some queues due to skip changes etc. Each of these facilities caters for all recycling needs – a full list of the items accepted can be found at www.rctcbc.gov.uk/communityrecyclingcentres
For more information on recycling visit www.rctcbc.gov.uk/recycling
To support this information residents can visit www.rctcbc.gov.uk/BinDay to look up their recycling and bin collection days or visit www.rctcbc.gov.uk/3WeeklyCollections to find out more details or use the A-Z recycling search at www.rctcbc.gov.uk/recyclingsearch.