There will be NO CHANGE to kerbside recycling and waste collections during the Easter holidays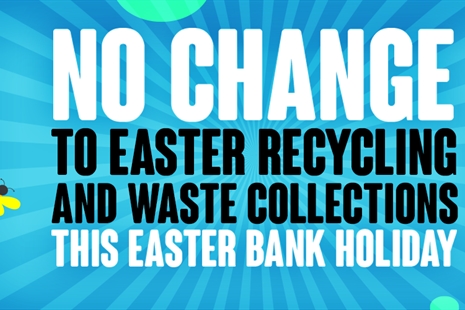 It's a 'cracking' shame that over 720 million eggs are thrown away every year in the UK!
Let's Crack Recycling this Easter by breaking recycling records and reducing our overall food waste! A recent WRAP kerbside black bag analysis of Rhondda Cynon Taf highlighted that our black bag waste contained 39% of food waste items that could have been recycled! This is well above the all Wales figure of 25%!
By taking this food waste out of the black bag and putting it into the weekly food waste recycling, we can help to hit the 70% recycling target set by the Welsh Government for 2024/25.
On average over 11,000 tonnes of food waste is collected and recycled in RCT – which when converted into energy at the food waste recycling plant in Bryn Pica, Llwydcoed, generates enough energy to power over 1000 homes.
You can find more information
If you're not already signed up, you can find more information at www.rctcbc.gov.uk/foodwaste.
Rhondda Cynon Taf Council is calling on residents to recycle as much as they can, from Easter egg packaging to leftover hot cross buns, lamb bones and eggshells!
Over 80 million Easter eggs will be eaten and sold this Easter, resulting in around 8,000 tonnes of packaging waste being generated.
Can you reduce your packaging? Almost two thirds of UK residents believe that Easter eggs are overpackaged. By doing a quick online search before you go to the shops, you can be more clued up to which eggs have the least packaging.
How do you recycle yours? Once you have devoured all of your chocolate Easter Eggs, think before you discard the plastic, foil and cardboard wrappings. The Council provides FREE and easy recycling, with weekly kerbside collections, along with weekly food waste, weekly Spring green waste and nappy collections.
Councillor Ann Crimmings, Cabinet Member for Environment and Leisure said:
"Recycling in RCT is EGG-STRA easy and accessible for all – with a simple, weekly, one clear bag system for dry recyclables and separate food waste recycling.
"I would like to thank residents for joining us in our fight against Climate Change. By 'Upping our recycling GAME' in combination with the upcoming black bag and bin collection changes we can help reduce the Council's carbon footprint and bring us closer to hitting the Welsh Government recycling target of 70% by 2024/25.
"More and more residents are taking advantage of our fantastic weekly kerbside recycling collection service. All of our Community Recycling Centres are open to the public and are now open extended hours for summer.
"I urge all our residents who are not currently recycling to come together to UP our Recycling GAME – the changes that we all make to our habits now will ensure that we avoid significant fines and safeguard a brighter world for future generations – it's a GAME we can't afford to lose!
Please ensure that food waste is recycled in the right green food waste bags and that you register for nappy collections and green waste collections, if needed, and that nappies are put out in purple bags and green waste into the green sacks. All clean, dry recycling should be placed into CLEAR recycling bags.
NO CHANGE
There will be NO CHANGE to kerbside recycling and waste collections during the Easter holidays – please place at your normal collection point on your normal day. Please remember to park sensibly so that the recycling vehicles are able to access your street, during this busy time.
Don't forget that the Council's Community Recycling Centres (CRCs) are open all over the bank holiday ready to accept all your 'egg-stra' recycling from your spring cleaning – opening hours are 8am until 7.30pm (summer opening hours). During busy times, there may be some queues due to skip changes etc. – you can view full CRC details online at www.rctcbc.gov.uk/CRCsRules.
Each of these facilities will cater for all recycling needs – a full list of the items accepted can be found at www.rctcbc.gov.uk/communityrecyclingcentres
All centres are staffed, and attendants are happy to advise residents.
Not sure what you can or can't recycle? You can now check online via the searchable A-Z guide at www.rctcbc.gov.uk/recyclingsearch. For more information on recycling visit www.rctcbc.gov.uk/recycling