Overnight Road Closure – A465 Between Glynneath and Rhigos Roundabout.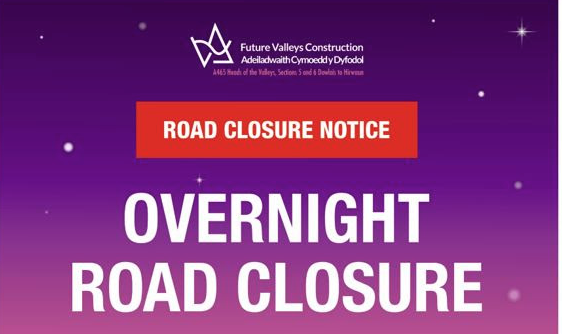 As part of the ongoing construction works the following overnight road closure is required on the A465 between Glynneath and Rhigos Roundabout:
From: 20:00, Monday, 6 November
Until: 06:00, Tuesday, 7 November
Please note: We aim to have this work completed as quickly as possible and anticipate that it will be possible to re-open the road earlier than 06:00hrs.
The closure is required for the contraflow arrangement at Rhigos Roundabout to be switched. This is needed to allow the next phase of the construction work at this location to be undertaken.
An official diversion will be in place at: www.a465.org/rhigosdiversion
We apologise for any inconvenience this closure may cause and thank you for your continued support.