Merthyr Tydfil mum thanks ambulance crew after cardiac arrest
A MOTHER-of-one who had a cardiac arrest in her sleep has paid tribute to her quick-thinking husband and the ambulance crew who saved her life.
Leah Lewis, 30, from Merthyr Tydfil, woke husband Jordan in the early hours of the morning by 'snoring' – but after several attempts to rouse her, she would not wake.
Realising that something was wrong, Jordan dialled 999 and was guided through CPR, which he performed single-handedly until ambulance crews arrived.
Leah was taken to hospital, where she was diagnosed with a rare heart condition and fitted with a device to regulate her heart rhythm.
She said: "I can't remember anything from the incident.
"Everyone else can remember everything, so it's very strange.
"It was lucky that our daughter Olivia, who was one at the time, was with my mum for the night.
"I'm so grateful to Jordan and all the emergency services who came to help and did their job so well."
Leah had her cardiac arrest in November 2021.
Husband Jordan recalled: "I just remember waking up to the sound of a really loud snore and thinking this doesn't sound right.
It was such a distinct sound and one I still remember now.
"After calling her name, shaking her and getting no response, I called 999 immediately.
"At this point, Leah was in full cardiac arrest.
"The call handler was amazing and guided me through the steps of CPR.
"They kept me calm and kept me going until help arrived.
"I was unbelievably happy when the first ambulance crew appeared, as I wasn't sure if I could keep going."
Help arrived in the form of the Welsh Ambulance Service urgent care assistants Clare Macintosh and Jema Rees, and paramedic Mark Sutherland.
They were supported by colleagues from the Emergency Medical Retrieval and Transfer Service (EMRTS) and fire service.
Mark said: "The first thing I saw was Leah on the floor.
"Clare and Jema had already restarted her heart with two shocks of a defibrillator and then gave me a quick handover.
"Leah then started to make breathing efforts, so we made sure her blood pressure was correct, an ECG was taken, and blood sugars were fixed.
"Because of the seriousness of the case, we contacted EMRTS who arrived 15 minutes later.
"To get her out of the house, we also had assistance from the fire service.
Well coordinated
"There was a lot of emergency personnel, but it was so well coordinated that it worked extremely well."
Leah was taken to University Hospital of Wales, Cardiff, where she was diagnosed with Brugada syndrome, a rare condition that affects the way electrical signals pass through the heart.
She was fitted with an implantable cardioverter defibrillator (ICD), which sends electrical pulses to regulate abnormal heart rhythms.
She said: "It was great to meet some of the team that helped save my life.
"Since that day, I've had two shocks by my ICD, the first, I passed out and didn't feel anything and the second time it felt like a thump to my chest, but I felt fine immediately after."
After Leah recovered, her mother Lydia Miller went on a fundraising and awareness mission.
Lydia said: "Jordan called me as the ambulance staff worked on her, so I rushed over, and the scene just looked like something from the TV series Casualty.
"I remember Mark's voice so clearly and he was great at keeping us informed throughout.
"Every medical person who I spoke to had the same thing to say – If it wasn't for Jordan's early intervention of CPR, she wouldn't have survived, which is why I wanted to highlight that and the importance of defibrillation.
"In October, at my workplace HR Dept, we started to raise money for charity and for a public access defibrillator for outside the office, which was kindly gifted to us by Kier.
"Now we just want to keep spreading the importance of learning CPR as you could save a life."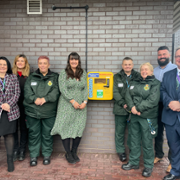 If you see someone having a cardiac arrest, phone 999 immediately and start CPR.
In addition, a defibrillator will deliver a controlled electric shock to try and get the heart beating normally again.
Ambulance call handlers will tell you where your nearest defibrillator is.
Watch this video from the Resuscitation Council UK about how to perform CPR.
It is important that new and existing defibrillators are registered on The Circuit in order that 999 call handlers can quickly and easily alert callers to their location if needed.