Christmas carols in Cwmaman's new community primary school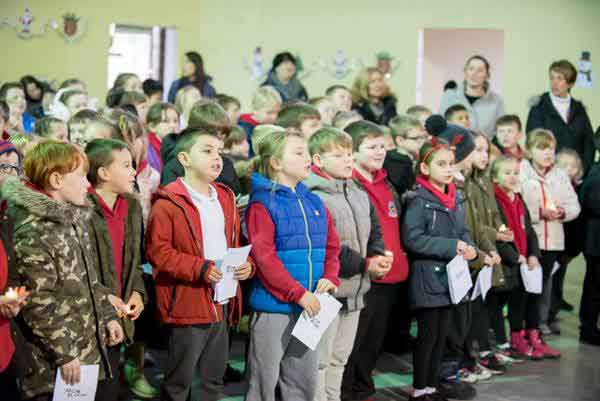 Staff and pupils at Glynhafod Juniors and Cwmaman Infants have held their annual Christmas Carol Service inside their brand-new £7.2M community primary school – which is still under construction.
Having visited the site on previous occasions, it was decided in conjunction with the project contractors, Morgan Sindall Group, to host this year's festive celebrations in the safe surroundings of the new school. The event offered parents the chance to see the inside of the new building for the first time.
As part of the significant 21st Century School investment programme, delivered in partnership with Welsh Government, the Council is set to open the new school on the single site from the start of the new academic year in September 2018.
Click here to see more photos from the Christmas Carole Service
Facilities at the new school, off Glanaman Road, will include a Multi-Use Games Area, staff car park, service yard, grass pitches and external pupil spaces. The school building will also include a dedicated community room for local groups.
All those who attended enjoyed the Cwmaman Christmas Carol Service. The pupils at Cwmaman Infants School performed songs from their Christmas show and parents joined in with the traditional carols. The school's Ocarina Group also performed a selection of seasonal melodies.
The pupils at Glynhafod Junior School performed such seasonal songs as Little Donkey while the school's Guitar Group performed the Christmas classic Away in a Manger, with Bible readings from Jake Davies, Tyler Thorne, Kodi Jones and Levi Brittan.
Headteacher Paul Morgan said: "It was a really special day and all at the school would like to thank the Council and Morgan Sindall Group for making it happen.
"A lot of work goes into making our school concerts a great success and we would like to thank all parents and members of the community for coming along and supporting us.
"We would particularly like to thank the 'Workmen's Choir' of Morgan Sindall Group for joining us with their vocal support and for providing us with the Christmas decorations and refreshments.
"Next year is going to be such an exciting one for everyone involved and we look forward to future visits and events as we make the transition from Glynhafod and Cwmaman schools into our brand-new building."
The new £ 7.2M community primary at Cwmaman has been funded via the Council's #RCTinvest programme and with support from Welsh Government through its 21st Century Schools and Education Programme.
Rhondda Cynon Taf's 21st Century School Programme
Posted on Friday 22nd December 2017