RCT establishes training café for adults with learning disabilities
Rhondda Cynon Taf Council has launched a training café for adults with learning disabilities to help them gain new skills and employment experience.
The new café – The Pickled Gherkin – will provide adults with learning disabilities with training opportunities to help them gain confidence and experience in a workplace, as well as the prospect of achieving accredited qualifications, which will help them towards gaining future employment in the catering industry.
The model is based on the Council's successful Care2Work programme, which has provided opportunities for Children Looked After, care leavers and those 16-24 years with care and support needs, to train in catering and hospitality within the Council, while gaining invaluable work experience to boost employability. Furthermore, users of the Care2Work programme will also have the opportunity to apply for an apprenticeship at The Pickled Gherkin, increasing their employability and skills in the industry.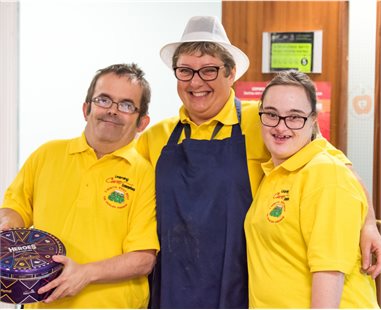 Training at The Pickled Gherkin will also provide individuals with the opportunity to increase their independence, reduce loneliness, and provide challenge and stimulation. Situated in the Council's Ty Elai site, The Pickled Gherkin will provide a safe learning environment and allow fully qualified Council staff to better support those training at the café.
A range of practical skills such as menu planning - including healthy options, food preparation, cooking, meal presentation, operating the coffee machine, kitchen hygiene and food safety, customer service, ordering stock, calculating profit and loss and the handling of money can be gained in this environment.
Additional skills and attributes such as personal presentation, social interaction, developing a work ethic, commitment to teamwork, good time keeping and effective communication can also be secured through the opportunities on offer.
The Pickled Gherkin is part of Rhondda Cynon Taf Council's innovative Learning Curve service, which provides training and employment opportunities to adults with learning disabilities living in Rhondda Cynon Taf. Established in 2005, Learning Curve aims to help those who use the service live a fulfilling, active life within the community and enable them to reach their full potential.
Councillor Geraint Hopkins, Cabinet Member for Adult and Community Services said "I am extremely pleased to see the launch of The Pickled Gherkin training café at the Council's Ty Elai site, which will help Adults with learning disabilities to develop their employability skills and independence

"The Council's Learning Curve service is a pioneer in its field, and seeks to integrate people with learning disibilities fully within our communities, so they can lead independent and fulfilling lives, and be an active citizen in their local area.

"Individuals with Learning Disabilities already contribute to running the Coffee Shop at Maesnewydd Garden Centre, Trecynon, which is a public facing business that attracts a wide customer base, as well as playing a significant role in the Council's Catering Team.

"The Pickled Gherkin will be a welcome addition to the Council's objectives to ensure the well-being of our residents with Learning Disabilities and providing them with the opportunities to achieve their full potential."
The Pickled Gherkin is a 'closed' training café, and will not be available to use by the general public, allowing trainees to develop their skills in a safe and controlled environment, which could not be achieved in a traditional commercial environment.
Posted on Thursday 24th October 2019