Foster Carer Paula's open letter to those considering Fostering.
An open letter to anyone who is thinking about becoming a foster carer from Paula Payne, who has been with Fostering RCT for nearly nine years.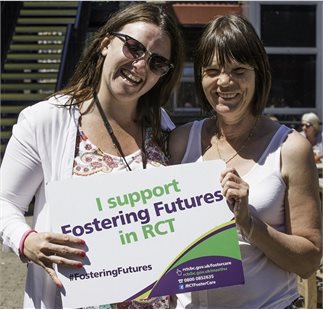 To anyone who is considering becoming a foster carer. 
First of all I would just like to say a little about me and the job that I do, I am a full time single foster carer and I look after one to three children at a time. 
 I have one long term placement at the moment. 
A young lad who will be 16 in October of this year, I have looked after him since he was seven years old and he will be with me until he is ready to move on. 
 I would just like to say what a fantastic lad he is. 
We have our ups and downs as would any family but we have a bond that will last a life time. 
It is perfectly natural for a child that has been removed from their home to miss their parents, but over time you build up a bond and a trust that is like no other, you are not there to replace their birth parents but to help them through the traumas they have suffered and to try to help them understand their self worth and to see that life can be good. 
All the time you are doing this, there are people who are working with the parents, going to court and meetings to make these children's lives better. 
Sometimes it can be done in a few weeks, or a couple of months and sometimes it takes longer, but being a foster carer means that there will come a time when they leave and move on. 
Be it when they are older, adopted, go home to parents or go to a long term carer to be looked after until they are old enough to fend for themselves as do our own children. 
I am writing this as I hear many people saying "oh but how do you let them go?", "I could never do that as I couldn't let them leave." 
Over the past two years, I have had two short term placements along with my long term placement. 
The first was a five-month-old baby and his four-year-old brother, we had many hurdles to overcome as the baby had a dairy allergy that we were not aware of and was quite ill, so had many visits to the doctors and his brother missed his mam which is understandable, but we got through it with lots of love, patience,  routines and  boundaries.  
The children were with me for nearly eight months. The baby learned to sit up, crawl and he cut his teeth and also had his first birthday with us. 
His brother had his 5th birthday with us also. Through all this, their mam was sorting out her life and working to getting her children back, which I am pleased to say she achieved and is doing well. 
It is heart wrenching to let these children go when you have a bond with them but I still see the boys regularly and have a fantastic relationship with their mam, both the children are as happy as can be and are always smiling, it is where they want to be and that is all you need when you see the children happy and thriving and I know I have done my job well. 
The next placement was a four-year-old boy who came with attitude issues -  also to be expected when they have been taken from all that they know into a stranger's house. 
But as with the other two, love, patience, routines and boundaries worked their charm. 
He became the most loving, genuine, polite child anyone could wish to meet.  
Everyone who met him loved his chat and charm. He has now been gone for three days and the house is so quiet and empty, he has gone to the best family for him, where he will have everything and more that he would want or need.  
We had a lot of introductions and sleepovers before he moved on and he built up a bond with his new family, he was prepared for his move and I would read him special books adapted to be enjoyable for children to help them understand their situation. 
So if you have read this and are considering fostering , then please do. 
There are many children out there that would love someone to help them out of a bad situation, yes it is hard when they move on and, yes, you do grieve for a while - especially when the house is silent and you find you have way too much time on your hands. 
But then you have a new placement and you do it all again because when you can see the light in that child's eyes when they get the love, kindness and safety that they crave and deserve it makes it all worthwhile. 
THAT IS WHY I FOSTER AND LOVE MY JOB
Find out more and order a no-obligation information pack.
Posted on Wednesday 2nd May 2018