Blue Plaque For Abercynon Champion Boxer
A Blue Plaque in memory of champion boxer David Dower MBE is being officially unveiled on his former home in Abercynon this coming weekend.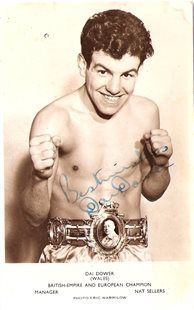 The open-air ceremony outside 28 Herbert Street, Abercynon, takes place at noon on Saturday, November 3. 
The unveiling of the historic Blue Plaque will also coincide with the launch of the new official biography David Dower: Fighter, Family Man, Legend, priced £10. 
Having attended the local school in Abercynon, David overcame ill health as a child and went on to become a Welsh amateur schoolboy boxing champion, along with his lifelong friend and former Councillor and Mayor Alby Davies MBE. 
He was also a member of the famous Great Britain boxing squad at the 1952 Olympic Games in Helsinki, alongside the then unknown Sir Henry Cooper. 
David went on to become British, European and Empire flyweight champion, as well as a World title contender. 
David's widow Evelyn, daughters Angela and Sandra and their families will be attending the special event in Abercynon on Saturday, as well as special guests including members of the Welsh Ex-Boxers' Association, the Bournemouth Ex-Boxers' Association and the British Boxing Board of Control.
 "The name David Dower is synonymous with Abercynon and the world of sport, especially boxing. 

"He may have been small in stature but achieved so much during his lifetime and it is fitting that David's family, friends, and the community pay tribute to him this coming weekend with the unveiling of the Blue Plaque and the official biography David Dower: Fighter, Family Man, Legend." 
The official unveiling of the Blue Plaque in memory and honour of David Dower MBE takes place outside 28 Herbert Street, Abercynon, at noon on Saturday, November 3. A temporary road closure will be in place in the area to facilitate this event.Boxing at the Pavilion, Mountain Ash
Boxing at the Pavilion, Mountain Ash http://www.aberdareonline.co.uk/history/cynon-valley-sporting-greats-john-penri-hillman-abercwmboi/boxing-pavilion-mountain-ash
Boxing in South Wales (Early 1900s) http://www.aberdareonline.co.uk/history/cynon-valley-sporting-greats-john-penri-hillman-abercwmboi/boxing-south-wales-early-1900s