Aberaman extra care scheme at former Maesffynnon Care Home site
Construction of a new extra care facility in Aberaman will begin soon as the Council delivers on its commitment to provide a model of accommodation that is better suited to meeting the needs of older people across RCT, through a £50m investment.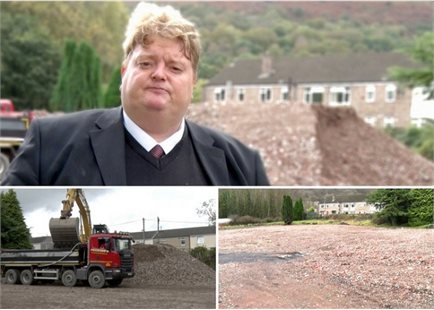 The Council is working in partnership with Linc Cymru to deliver 40 extra care apartments on the site of the former Maesyffynnon Residential Care Home in Aberaman.
In October 2017, Cabinet discussed a plan to develop five new extra care facilities in Rhondda Cynon Taf, with a £50m investment to deliver modern accommodation options to meet the needs and changing expectations of the growing older population in the County Borough. Linc Cymru, the largest provider of extra care in Wales, is the Council's chosen partner to deliver this ambitious plan.
Extra care helps older people live as active and independent lives as possible, enabling residents to live in their own homes and receive targeted support to meet their individual assessed needs. The Council has identified the need for 300 extra care housing places across Rhondda Cynon Taf as demand for new models of care and support increases.
The Aberaman facility, which has been developed in partnership with Linc Cymru, was granted planning permission in February 2018. It followed the demolition of the former Maesyffynnon Residential Care Home in October 2017, and the development is supported by the Welsh Government's Innovative Homes Programme.
The development will include the construction of 40 independent apartments (36 one-bedroom and four two-bedroom) for people aged 50 and over, within a single three-storey building on Club Street. There will be on-site assistance for residents with decreased mobility or other similar conditions.
It will provide communal facilities including a dining room and cafe, hair salon, therapy room, lounge, laundry room, winter garden room, activity room and guest suite. Ancillary areas such as a kitchen, staff room and offices will be provided, along with a 24-space car park and a garden area – which will be used in conjunction with Blaengwawr Primary School.
Councillor Geraint Hopkins, Rhondda Cynon Taf Council's Cabinet Member for Adult and Children's Community Services, said: "During October 2017, Cabinet discussed an investment of £50m and proposals to create five new extra care housing facilities across Rhondda Cynon Taf – and the Aberaman scheme is the first of these to progress to the construction phase.

"People are living longer, and there is a need to reconsider how we deliver care and support for our older generations. A bold approach to this is required, to ensure a sustainable model of care is created for current and future older generations.

"The Council is working in partnership with Linc Cymru on a number of extra care housing schemes, to deliver on our commitment to provide a real alternative to residential and nursing care for its users. This is in response to the identification that an additional 300 extra care places are required across the County Borough.

"The Aberaman scheme will provide 40 of these places, and I'm looking forward to seeing progress on this project in the coming weeks and months – with the ground set to be broken on this development in early June."
Louise Attwood, Linc Development Director, added: "This is the largest offsite residential project in Wales and we are very excited to watch the scheme develop. We will be monitoring and sharing our progress and learning from the project to help Colleges, consultants and others interested understand this method of construction which is very different to traditional techniques used in the industry."
The Aberaman project is currently at a pre-construction phase, and the main construction of the new building is scheduled to begin during early June 2018. The homes will be built to a higher standard than required by building regulations to ensure running costs of the units are affordable.
The development will use Modern Methods of Construction (MMC) working in collaboration with the Welsh Procurement Service and F1 Modular Ltd, based in Powys. The company will construct elements of the development up to final fit-out stage – for instance kitchens and bathroom – in their factory. They will then be delivered to site, helping to reduce the construction period.
Posted on Tuesday 8th May 2018